The hottest sandwiches to seduce any date.
According to a recent head-scratching survey by dating website Skout, people who like grilled bread and melty cheese—not just apart, but squeezed together in something we endearingly call the "grilled cheese"–have more sex. Mathematically speaking, if you start living off of grilled cheeses from here on out, you'll get lucky.
Since it's National Grilled Cheese Month—a grease-filled month set aside to celebrate this most sensual sandwich—we've gathered together the following recipes so YOU can heat things up.
1. For the Classic Girl Next Door: White Bread and American Cheese, Please.
Every time you go home to Mom, you hope to see these, grilled to a perfect golden crisp. Comforting, warm, beautiful. This is a classic for a reason.
2. For the Parisian, Beret-ed Lover: Brie, Raspberries, and Nutella.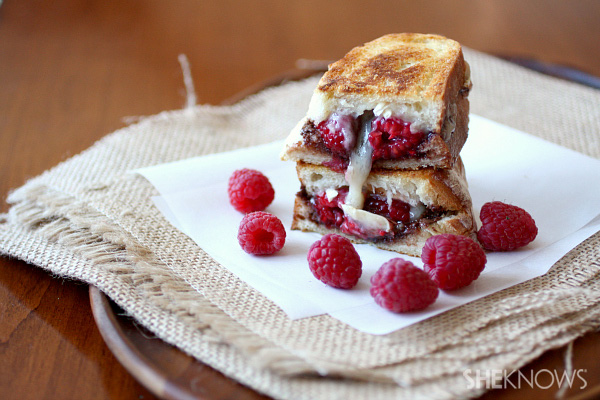 sheknows.com
At your artistic, European picnic, casually smoking a long cigarette. Yes. This is your grilled cheese of choice.
3. For the Caliente Latin Lover: Quesadillas de Camarones.

Lounging by the water on a tropical beach, this vision will bring you to your knees.
4. For the Tall, Dark and . . . Unconventional Lover: The Pumpernickle Corned Beef Grilled Cheese.

Most likely found at a basement poetry slam, this towering loveliness is unusual–but always fun.
5. For the Holistic Au Natural Lover: Caprese Grilled Cheese.

After a long hike or a yoga session, this sandwich will keep your crunchy granola-lover going.
6.  For the Uptown Girl: $100 Grilled Cheese–Gold-Plated and Outrageous.

She likes her men like she likes her cheddar: aged.
7. For the Nerd Lover: The Nacho Grilled Cheese.

Nerdy junk-food lovers: rejoice. Carb-up for the game of love or the love of gaming.
8. For the Friend With Benefits: The Grilled Cheese Bread Bowl.

This Grilled Cheese Bread bowl hangs out in bed without consequences and doesn't expect anything in return.
9. For the Sports-Fan Lover: The Corn Dog Grilled Cheese.

Half-time couldn't come soon enough.
10. For the One Night Stand: Grilled Cheese Pancakes. Morning Regrets?

Glorious breakfast gods, this grilled cheese pancake is a great idea post-party–but not so delightful in the light of the morning.
11. For the Activist Lover: Save-the-Fromage Vegan Grilled Sandwich.

Saving the planet never felt this good.
12. For the Long-Time, Commited Lover: the Everything Bagel Grilled Cheese.

The Everything Bagel Grilled Cheese has everything. It's a bit garlicky, but after all this time–you're comfortable with it. Plus, it's well-rounded, with tons of conversational potential. Keep this one around.